My namne is Jessica and I was born in the early 1970's. I live with my husband Oskar, our dogs, some other animals, among them some very sweet sheep.
I grew up with dogs, labradors. My mother was breeding labs for 30 years and I started off in the obedience ring with one of her dogs in the early 1980's.
In the teens I discovered the chow chow and I knew I had to have one. I also knew I'd become a breeder of chows one day. My parents did not get me a chow at first, so I did what I could to learn all I could about chows: I read everything about the breed that I could find, I got to know chow owners and breeders, I joined the breed club and I started to collect pedigrees.
In the spring of 1987 I wrote a letter to the breeder I dreamt of having a chow from one day, and asked if I could spend the summer as a kennel maid with her and her dogs. I quickly got a reply that said I'd be more than welcome to come. So, in the summer of 1987 I spent two wonderful months with Elvy Siegerstam at Haitungs kennel. I learnt a lot about chows and lived my dream!
The following autumn, my parents realized this chow passion of mine wasn't just a teenage crush, so they gave me my first chow puppy, a bitch from Haitungs kennel named Haitungs Fang-Lin-Si. I called her Gurkan (Cucumber in English... Don't ask me why...) and she was everything I wanted in a chow. She was beautiful and quickly finished her Swedish title. She never became the foundation bitch for my breeding that I had hoped for though, but her name lives on in my breeding anyway.
I aim to breed
as healthy, sound and typical chows as possible. Health will always be my number 1 priority, but I am very fond of showing my dogs, so I also want my chows to be as close to the standard as possible. Things like type, construction, balance and proportions are important as well as the typical stilted gait.
These are the requirements for the dogs I use in my breeding:
• HD clear (A or B)
• ED clear (0) or mild (1).
• No entropion.
• No history of ligament problems.
• No skin problems.
Needless to say, I also want the dogs to have a good temperament!
Our dogs live indoors with us and run free on our property.
During 1996-2018 I was webmaster and editor of Chow Chow Ringen, the national chow club of Sweden. In my proffession I also layout the club magazines for the Swedish Labrador Club, the Swedish Poodle Club, the Swedish Wachtelhund Club and the Swedish Spaniel and Retriever Club.
My interest in dog shows also include handling other people's dogs of various breeds. There is no such thing as pro handlers in Sweden, so I do this just for the fun of it. I have handled breeds like chows, mastiffs, giant schanuzer, miniature schnauzer, golden retriever, bloodhound and bichon frisé to CAC, BOB and group placements and I have also finished some dogs for their titles.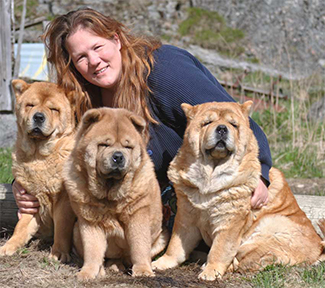 I judge at open/non-championship shows sometimes. I am not a licensed judge, but I hope to be one day.
Some judging assignments have been something extra:
• In 1998 I was invited to judge sweepstakes at the MLCCC's Silver Anniversary show in Toronto, Canada.
• In 2007 I was invited to judge at the Finnish chow chow Club's open 25th Anniversary show in Finland (photo below).
I have also judged at an open chow specialty in Sweden.